Shopping Cart
Your Cart is Empty
Thank you for your business!
You should be receiving an order confirmation from Paypal shortly.
Exit Shopping Cart
I remember my Granny McKay very well. Throughout my childhood and early adulthood she was always a part of our lives. She was probably not what you might consider a typical Granny - someone who spoils you rotten and dotes on you. No, she was actually very strict and always a bit too concerned about what damage we children might do to her furniture, her knick-knacks, etc and we were not allowed into her dining room by ourselves - I do remember it was a grand room, with a highly polished table (walnut I think), on which stood a magnificent aspidistra. But for all that, Granny was OK! We always look forward to going round to 19 Dock Street, a tenement building in which her flat was on the top floor. It was a bit of a climb for wee legs and hers was the last door too! Although an aging tenement, it was still a pretty good standard of building and Granny's flat was always immaculate!
At one time, Granny had a budgie called Joey. Another abiding memory is that her tea was awful! It was always really milky and had masses of tea leaves floating on the surface - yeuch! (The things you remember.)
I can remember seeing my first ever episode of 'Doctor Who' on the TV in Granny's flat and I think that my brother, Robert hid behind the sofa in fright at some of the 'scary' bits. We always went to Granny's flat at New Year, which was good, but even better was that afterwards we'd go down one flight of stairs to Auntie Bella's flat (Granny's sister) where there was always a party in full swing, with loads of relatives we never saw at any other time of the year.
I can also remember Granny looking after Robert and I for a few days when our Mum was in hospital havingour brother Ronald. She was even stricter then - presumably taking her responsibilities seriously.
At one point, at a fairly advanced age, Granny made a trip, by boat, to Australia, to visit her daughter, Nan. (The picture at the top of this page is of her with a friend on the boat.) Nan lived in Sydney with her husband Bob Harkness and children - Robert, Roderick and Donna. According to my Dad, Granny apparently took ill on the way out, in Italy - not sure why a boat going to Australia was visiting Italy, but that's what I was told. On the way back from Australia, having recovered, she was wooed by an Irishman ..... but she repelled his advances!
Eventually, Granny had to move out of Dock Street, because it was due to be pulled down ..... in fact it stood for many years after and perhaps she needn't have moved at all. She went to live in a ground floor Council flat in Muirhouse, a fairly rough area to the west of Leith, The flat was in Pennywell Avenue. I can remember helping with the 'flitting' and riding out to Muirhouse on the back of the truck that was taking her furniture there. Although, Muirhouse was only about five miles from Dock Street and it was a relatively easy bus journey back to Leith, for someone who had lived all her life within a radius of about half a mile, it must have seemed a great way away. The move was not, I believe, good for her - we certainly didn't see as much of her as we used to and she became a bit isolated. She also became a bit forgetful and would find herself somewhere (often back in Leith) without remembering how she got there. Eventually, she moved in with us at Hamilton Wynd, Leith and later she had to go into a Nursing Home, Queensberry House, where she later died.
Birth - 16th July 1889
Margaret Richmond Rodger was born at 3.30 am at 7 Admiralty Street, Leith (pronounced by most Leithers as if it was spelled "Admirality", with the emphasis on the 3rd syllable. Margaret's parents were William Rodger, a Boilermaker's Labourer. and Isabella Fraser Brand Campbell (what a great name). Her birth certificate shows her parents' wedding date as 26th April 1889 - so they just made it. I wonder if Granny was aware of this? I think not, as she would have been mortified.
1891 Census
The Census shows that Meggie Rodger was living at 8 Pitt Street, Leith, with her parents William and Isabella Rodger. She was aged just one. Also living at the same address, but in a separate household, were her grandparents Thomas Rodgers (5) and Jane Rodgers, her Uncle James (18) and her Cousin, Alexandrina (9).
1901 Census
Margaret was 11 years old at the time of this Census and was recorded as being a Scholar. She lived with her parents William and Bella Rodger, at 8 Tennant Street, Leith. Also living there were her sister Bella (8) and brothers Thomas (6), David (4), William (2) and Harry (1).
Marriage - 24th June 1910
Margaret married Thomas Dow McKay at The Manse, 30 Ferry Road, Leith, according to the rites of the Church of Scotland. Margaret was aged 20 and was employed as a Paper Bag Maker. Her parents were recorded as William Rodger, a Farmwork Labourer, and Isabella Fraser Brand Campbell. Their witnesses were Isabella Rodger (Margaret's sister) and George Grieve, who I think may have been Isabella's future husband (?).
1911 Census
The Census records that Margaret aged 21, lived with her husband Thomas, aged 24, at 38 Grove Street, Leith. Although she was described in her marriage certificate as being employed as a Paper Bag Maker only one year earlier, there is no indication of employment in the Census record. Thomas was employed as a Labourer. At that time they had only been married for one year and so no children had arrived yet. A number of other families lived at the same address so it is likely that this was a tenement building and judging from the photo of Grove Street, not very salubrious tenements.
1912
Margaret's first son, William Cochrane McKay, was born 1912; probably named after Thomas's father, William Cochrane Rogers
First World War
Margaret's husband, Thomas, got badly injured during the war and ended up convalescing in the Easter General Hospital where Margaret was actually working as an Auxilliary Nurse.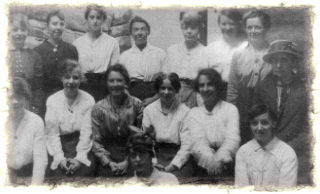 Margaret, at the Easter General Hospital
(Top Right)
1919
Margaret's second son, Harry Rodger McKay, was born 1919
23rd June 1922
Margaret's third son (my Dad), Alexander Gillespie McKay, was born at 11.40 pm at 45 Tolbooth Wynd, Leith. His middle name, 'Gillespie' is a bit of a mystery, but according to my Dad, he was named after a good friend of the family.
1924
Margaret's fourth son, Francis Rodger McKay, was born in 1924
1928
Margaret's daughter, Nan Begly McKay, was born in 1928; probably named after Thomas's mother, Ann Begly.
17th March 1950
Margaret's son, Alexander, married my Mum, Margaret Helen Sutter, in South Leith Parish Church. At that time Margaret lived with Thomas in 19 Dock Street, Leith.
24th March 1956
Margaret's husband, Thomas, died at home in Dock Street, of Chronic Bronchitis.
Death - 25th October 1976
Margaret died at 11.40 am at Queensberry House Hospital (a nursing home in The Canongate, Edinburgh). She was aged 87 and died of "1A, Myocardial Failure, 1B, Cardiovascular Degeneration, 2 Cerebral Vascular Disease". Her death was reported by her son 'F. A. McKay' (my Uncle Francie). She was described as a Widower of Thomas Dow McKay, a Flour Mill Worker.
/